Unsurprisingly, the Super Bowl holds little interest for someone as purposefully ignorant of sports as I am. However, the Super Bowl does admittedly tend to generate some first-class memes, and I'm always down for a crisp, dry meme with a fruity bouquet. Lady Gaga headlined this year's Halftime Show and seriously stunned the crowd with her performance, which took the audience on a tour of Gaga's now iconic hits—from "Telephone" to "Bad Romance"—and involved some crazy stunt work that took Mother Monster to new heights. Those same wire-flipping stunts elevated Gaga into the pantheon of meme-ified Super Bowl performers past, in the company of Janet Jackson's fateful boob mishap and the legendary Left Shark. There are some real gems in the mix:
Apparently, memes aren't the only thing spiraling out of control post-performance. In fact, Twitter is blowing up with complaints from some members of the Super Bowl Halftime Show's audience regarding Lady Gaga's level of physical fitness, more precisely, regarding her purported "gut" which made an appearance on stage.
Even in the wake of an amazing live performance, even as the platinum female artist announced a world tour and saw a dramatic spike in music sales post-Super Bowl (a 1,000 percent increase, according to CNN), it seems that all social media can manage to focus its tiny, collective brain on is Gaga's supposed "gut." Are you kidding me? Are you kidding me for a multitude of reasons, first and foremost because if that's what a gut looks like, I'll literally never do another crunch in my life in hot pursuit of my own "flabby" stomach.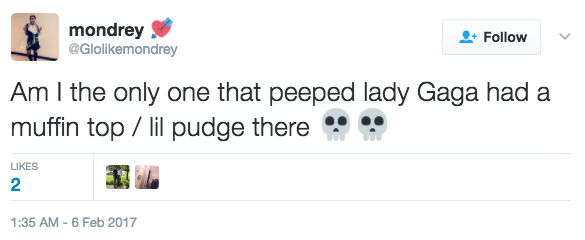 Unfortunately, this is the kind of catch-22 mentality which consistently plagues female artists in the music industry today. It's also the kind of certified nonsense that makes me want to pull my hair out by the roots. Think about it. Female artists are encouraged, even expected to dress provocatively, and often to perform in a sexualized manner on stage; like it or not, many female artists, even powerful, outspoken women like Beyoncé, Rihanna, and Gaga herself, generally tend to adhere to this unspoken demand. But here is where the double-edged sword swings backwards with a vengeance—we want you to wear a leotard, pull off a demanding, choreographed dance routine while still singing live, do flips on a freaking wire, and generally just be sex personified, but if a single fold of skin on your stomach is out of place while you're doing so, prepare to be berated online with unsolicited suggestions for a new fitness regime. See the problem here? Female artists and women in general are held up to this impossible, unattainable standard of beauty and are then subject to invective from random strangers on the internet if they don't match up with someone else's constructed ideal.
Honestly, the point isn't even that the accusations of Gaga having a gut are patently untrue—they are of course, she looks great and anyone who says otherwise had better have a six pack and a platinum album of their own to point to before they dole out suggestions to talented millionaire goddesses. The point is that it's none of your damn business. Even if she had gone up on stage with a crop top and an impressive spare tire of fat on display, your opinion is irrelevant. One, because it's her body and her career, neither of which you have any vested interest or control in, and two because—surprise—I guarantee that she's not dancing on that stage in booty shorts to impress your dusty self. She's doing it because it's her job, because she rightly thinks she looks great doing it, and because she probably enjoys making obscene amounts of money for one hour's work.
Unfortunately, this kind of response is far from an outlier. Harsh, body-shaming comments, whether in person or online, are par for the course for female artists fixed in the limelight and constant subjected to severe public scrutiny. Gaga has already responded to the comments via Instagram in the best possible way, turning the negative comments on their ear and using them as a platform to encourage self-love and acceptance of all body types:
"I heard my body is a topic of conversation so I wanted to say, I'm proud of my body and you should be proud of yours too. No matter who you are or what you do…Be you, and be relentlessly you. That's the stuff of champions" (via Instagram)
Regardless of body-shaming comments, the talented female bosses of the music industry will continue to slay, whether or not they jiggle a little while they do so.